Welcome to our list of the best personal development books available today. We have made a slight movement away from the usual Dale Carnegie books and gone for a more modern day look into what books are working today.
The 12 Rules For Life by Jordan B. Peterson
Psychologist Jordan B. Peterson answers some of the most difficult questions that everyone in the modern needs to know. He combines the truth of ancient wisdom with new scientific research.
Dr. Peterson journeys widely, discussing discipline, freedom, adventure and responsibility, filtering the world's wisdom into 12 practical and profound rules for life.
---
2. Attached by Amir Levine, M.D. and Rachel S.E. Heller, M.A.
This book takes a deep look into the attachment theory. Attachment theory usually discusses parent/child relationships but the authors discuss how this theory works in adult based relationships.
Look into what type of attachment style you follow and let it guide you for building stronger more fulfilling relationships.
---
3. You Are A Badass by Jen Sincero
A guide to helping you live your best life.
This is a book for anybody ready to make huge changes if their lives. Take control of your fears, take more risks in life, make more money and find love.
Full of real world advice, this book will empower you to stop doubting yourself and get stuff done.
---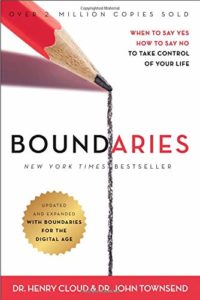 4. Boundaries by Dr. Henry Cloud and Dr. John Townsend
Drs. Cloud and Townsend write about how setting boundaries can set you free and not feel guilty in doing so.
In today's digital age it has never been more important to set yourself boundaries. You'll discover firsthand how to reclaim your freedom to walk as the loving, giving, fulfilled individual you were created to be.
---
5. Daring Greatly by Brene Brown
This book is about courage.
Author Brene Brown discusses why vulnerability is not a weakness and argues why it's the accurate measure of courage.
She writes: "When we shut ourselves off from vulnerability, we distance ourselves from the experiences that bring purpose and meaning to our lives."
---
6. The Gifts Of Imperfection by Brene Brown
In her ten guides, Brown looks into our minds, hearts, and spirits as she explores how we can cultivate the courage, compassion, and connection to wake up in the morning and think, "No matter what gets done and how much is left undone, I am enough," and to go to bed at night thinking, "Yes, I am sometimes afraid, but I am also brave. And, yes, I am imperfect and vulnerable, but that doesn't change the truth that I am worthy of love and belonging."
---
7. Girl, Wash Your Face by Rachel Hollis
Rachel Hollis gives you a strategic blueprint to do whatever it takes to get real results in life.
Rachel exposes the twenty lies and misconceptions that too often hold us back from living joyfully and productively, lies we've told ourselves so often we don't even hear them anymore. All done in a humorous and unique voice that made this book a number 1 bestseller.
---
8. I thought It Was Just Me by Brene Brown
This is a wonderful book by Brene Brown that looks into the importance of embracing our imperfections.
Her study revolves around how our imperfections define who we are. Trying to be perfect is not the answer and embracing our vulnerabilities and imperfections will help you get ahead in life.
---
9. Make Your Bed by Admiral William H. McRaven
His original speech went viral. Building on the core components of that speech he wrote this book.
He shares his 10 principals he learnt during his navy seal training and as you guess it all starts with making your bed every morning. Told with humility and optimism, this book will inspire it's readers to achieve more no matter what circumstances.
---
10. Start Where You Are by Meera Lee Patel
Start Where You Are is an interactive journal designed to help readers nurture their creativity, mindfulness, and self-motivation.
The book presents supportive prompts and exercises along with inspirational quotes to encourage reflection through writing, drawing, chart-making, and more.
---
11. The Universe Has Your Back by Gabrielle Bernstein
Readers will learn to stop chasing life and truly live.
"My commitment with this book is to wake up as many people as possible to their connection to faith and joy. In that connection, we can be guided to our true purpose: to be love and spread love." Follow the secrets revealed in this book to unleash the presence of your power and know always that The Universe Has Your Back.
---
For more information on personal development have a look at our article on the importance of personal development here.